| | | | |
| --- | --- | --- | --- |
| | Time and Attendance in Apparel Manufacturing | Home | |
Manufacturers of Apparel in the UK and globaly realise the need to organize and automate the very manual task of collecting time & attendance information from their workforce. Weekly and Monthly Gross to Net payroll conversions can be overwhelming to the Human Resources and Accounting departments due to the sheer volume of transactions. As with any manual process the margin for errors is very high.
They NEED the ability to effectively and accurately collect and track worker time & attendance at all times throughout the working day along with human resource and overtime reporting. We understand this, so we have developed a specific hardware and software solution to address this. With our solution the manual process of collecting time & attendance information all but disappears.
All employees are issued Bar-Coded Identification Cards identifying their factory location, sewing line, user ID, and can include colour photographs. All factory personnel are required to Clock In / Out of the system in the morning, before and after breaks, end of the working day, and during overtime hours.
Key Benefits:
Accurate and timely collection of actual time worked including breaks
Human Resources Planning and Reporting
Gross to Net Payroll Conversion
Customisation for Local Labour Law Compliance
Integrated E-Mail Overtime Reporting with alerts
Bar-Coded Identification Cards
Captor Data Collection Terminals respond to workers swipes with alert tones
The Captor Network
The shop floor data capture is achieved using a Capnet (Captor Network), which consists of 4 primary components:
Host Computer - any computer, which can connect to the Communications controller via Ethernet or RS-232-C bi-directional link. It can control up to 255 terminals.
Communications controller or Capdrive - the central point of the network. Its primary function is to control the network and interface with the host computer. It also delivers the power necessary to operate the Captor terminals.
Wiring and T-Boxes - The standard network wiring is a daisy-chain configuration where the wiring extends from the Communications controller to the first terminal and then from terminal to terminal until the last terminal is connected. The network can be split into up to 4 independent channels with a maximum overall length of 2000 meters. The T-Box interfaces the network wiring to the Captor terminals.
Captor Terminals and Bar-Code Swipe Resaders - plug into the network via the T-Boxes. They should be located at the entrances to the work place and are the operator interface with the system.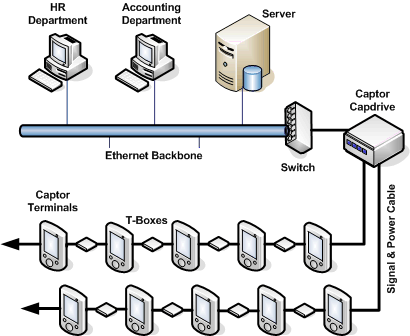 XeBusiness have a partnership arrangement with Captor Electronics of Belgium for the supply of the Microcap family of devices. Click in the logo to visit Captor's web site.


Home || About Us | Capacity Planning | Client Care | CMT | Concessions | Contracts | Corporate & Workwear | E-Commerce | Financials | Finished Stock | How to find us | MRP | News | Partners | Production | Scanning | Services | SOP | Users | Xe-ERP | Xe-RTS | Xe-WMS |