| | | |
| --- | --- | --- |
| Choosing a manufacturing control system | Home | |
By Brian Kilcoyne (An extract from a feature in Apparel International)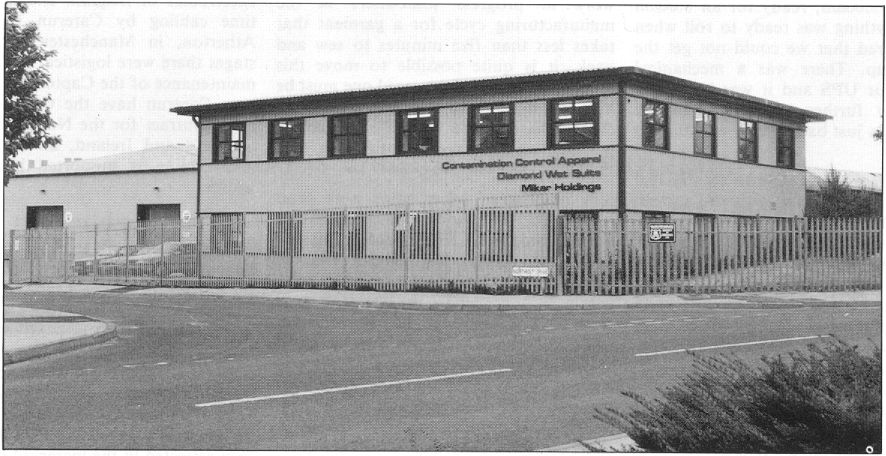 Mikar's HQ office block with warehouse and production unit in the background.

Mikar Holdings, consisting of Contamination Control Apparel and Diamond Wetsuits, is a young aggressively managed group which aims for the leading edge in both its operations and its management systems.

Mikar, CCA has a unit of around 50 operators, who, together with a twilight shift, produced about 30,000 disposable or 'short life' coveralls per week. Another unit of around 20 was producing re-usable workwear for use in clean environments. These 'clean-room' garments are made to customer order in quantities which can range from as little as three to over a thousand of a style. Short-life is marketed on an ex-stock or very quick response basis whilst clean-room orders are usually to very critical delivery deadlines – the end user is typically a manufacturer who simply cannot produce without the correct clean-room garment. Diamond Wetsuits makes watersports and diving gear to stock for sale direct to UK retailers and distributors in Europe. All of these areas suffer in some part from cut backs in the UK, but European export markets are being vigorously pursued and the group has realistic expansion plans.

Choice of XeBusiness

Mikar needed a production control system that would help its staff to speed up order throughput and a wages system which was accurate and self-checking, releasing section supervisors to concentrate on quality and efficiency. At the same time the system had to make use

Specialised manufacturing control systems are continually changing and developing – not least in the highly individualistic clothing industry. The old tried and tested systems were principally all designed for the engineering industries, but for the clothing industry today there is a lot of choice – all of it recent, much of it untried, and each one a slightly different animal to the next. Choosing between them is not an easy matter – witness the experience of Contamination Control Apparel, part of Mikar Holdings based in Bolton, Lancashire, reported here by Brian Kilcoyne who worked for the company as a management systems specialist.

of what was already on site and have the capability to be built into a full management control system in due course. In addition, the whole system must be capable of satisfying the requirements of BS5750/ISO 9001. Not least the system provider should have a reliable and efficient back up and after sales support service both for hardware and software.

XeBusiness were, indeed, able to come up with a proposal which met all these requirements, the production control and labour cost control packages being part of a fully integrated suite of modular packages which can be installed complete or piece meal.

The real-time system required, of course, a considerable investment in new hardware. This included 80 Minicap Captor Terminals, one for each operative plus spares (which proved to be essential), a capdrive and a dedicated PC on the network to run the control software; in addition, data and power cabling had to be installed to connect the whole lot together. With all this, including software, Mikar was making an investment of around £80,000.

A great deal of thought and planning had gone into the decision to spend that amount and we were fairly certain that we had bought the best available solution. We also knew that however good the equipment our people would have to make it work, and what we got out of it depended largely on the quality of what we put in.

Training sessions

The XeBusiness sales team were quick to pick up this point and strongly advised a considered programme of training for our users both prior to and during installation.

The section supervisors were all sent on training sessions at the Manchester office where a practice system is available. At the same time, a series of meetings were held in the factory canteen to give a broad outline of the new system to the machinists. We felt that there could be some resistance to the new technology and wanted to clear up any areas of ignorance and nip any potential problems in the bud.

On the machinist's part there was some concern about the lack of documentary evidence of their earnings under the new system which requires only one bundle ticket to travel with the bundle throughout the manufacturing process. However, when it was explained that the minicap terminal gives instantaneous feedback on earnings so far, as each bundle is entered, even the most troublesome began to mellow – when they realised how much time would be saved by not having to tear off batch tickets and stick them on to daily work coupons they were practically won over!

Four production lines

At the time, CCA's short-life section was split into four production lines. Our plan was to introduce the new system one line at a time over a period of four weeks and follow up with the clean room unit on week five. We had envisaged various scenarios for what could go wrong and made contingency plans.

For example, machinists would, we thought, take some time to become accustomed to the use of the minicap terminals. They would have to clock on via the minicap each morning, they would have to remember the various function keys for order number, batch number etc., and get used to typing information in to the terminal accurately and in the correct sequence. We fully expected a hopeless tangle during the first weeks and had already reconciled ourselves to paying average for as long as it took for the machinists to adapt to the new system.

When the day arrived to start-up the first line, two XeBusiness real-time experts together with their project manager were with us at 7.00am ready for an 8.00am start. Everything was ready to roll when we discovered that we could not get the fileserver up. There was a mechanical fault on our UPS and it was lunchtime before any further progress could be made. It was just bad luck – an ominous beginning.

However, we were able to set the first line going after lunch with the experts following the first few bundles down the line. Each machinist received individual tuition in how to input data from the bundle ticket and how to use the minicaps' many inquiry functions. As the afternoon wore on there were times when every machinist on the line had someone standing by – myself, one of the supervisors or someone from XeBusiness – explaining and demonstrating. But by the end of the day one might have thought they had been using the system for a week!

Unable to believe it could be going so well we kept the first line going for a further two days before starting up line two. By this time most of the machinists had their minicap terminals permanently set to give a constant read out of earnings so far and the brightest were already using that information to pace themselves. By the end of the first week the whole of Short-Life was running on the new system and we planned to start up Clean-Room as soon as we had cut work to feed in.

In a matter of weeks we were getting accurate WIP information on a real-time basis rather than some time the following day. This was invaluable to the Short-Life side where it is not unknown to receive an order in the morning for an item which is not in stock and yet be able to despatch that same afternoon. Provided there is work in progress somewhere in the manufacturing cycle for a garment that takes less than five minutes to sew and pack, it is quite possible to move this quickly. However, to succeed one must be able to pin-point the WIP quickly and accurately in order to take effective action – the real-time system providing that facility.

A number of other gains were soon recognised. With the LCC package installed, operator wage slips could be printed and issued daily. This meant that in theory any query could be dealt with within 24 hours whilst the events are still fresh in everyone's mind. It was soon found that the only queries were the result of either bugs in the system or incorrectly entered data. Once the bugs had been identified and dealt with and we had corrected all our initial mistakes, the occasions on which daily wage slips were questioned became less and less.

The new system is a great time saver. It is estimated that CCA's four supervisors now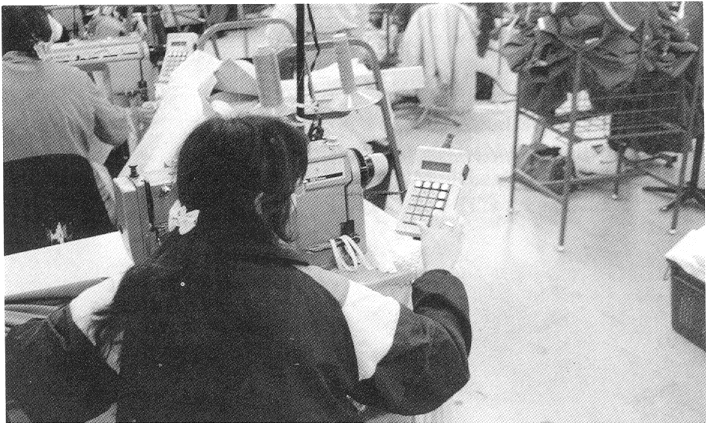 have around six or seven hours extra time each week to devote to quality and efficiency. Some of this time is spent using tools which real-time provides to monitor bottlenecks and potential bottlenecks, operator attendance and efficiency and to effectively progress and chase urgent orders.
Maintenance and trouble shooting support for the system was co-ordinated through XeBusiness's software support desk. The Captor equipment had been supplied by Captor Electronics in Belgium. With a small number of spares, maintenance is handled on a return to base system which has been found to be more than adequate.
Pervasive effect
It is very difficult to put a figure on the improvement in productivity following the introduction of real-time as its effect is so pervasive throughout the whole manufacturing process. Mike Griffiths, however, was prepared to say that '…it is my feeling that we have achieved an overall increase in productivity of about 10% as a direct result of the introduction of real-time'. In many cases this can be seen reflected in the increased earnings of the operators who are now more in control of their earnings potential due to the continuous up-to-date information available to them.

Home || About Us | Capacity Planning | Client Care | CMT | Concessions | Contracts | Corporate & Workwear | E-Commerce | Financials | Finished Stock | How to find us | MRP | News | Partners | Production | Scanning | Services | SOP | Users | Xe-ERP | Xe-RTS | Xe-WMS |